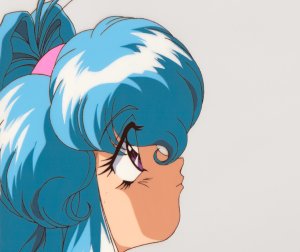 I'm just starting my collection of cels. I will probably move this to my own site eventually, but until then, this will be where I showcase all the cels I have. Feel free to check out my website at vrillusions.com

News & Updates



12/27/2007
Finally got me a new scanner so I can update the cels again. Added one from Oh My Goddess today. Rest are from Photon that I'll get scanned at some point.

Fwiw, I got the Cannon CanoScan LiDE90. It's really inexpensive and I'm happy with the image quality.
12/13/2007
I got some feedback by Jessica a while ago to identify the series that has been unknown for so long. They are from a hentai called Kigurumi Sentai Kiltian. Also thanks to her blog I realized I can upload high res images. So I've uploaded the higher resolution scans I made of those too.

(edit) I recently discovered that actual name is Kigurumi Sentai Quiltian.
9/7/2005
Added a nice cel of Yoko from Bastard!!. Good quality except for all the cels sticking to one another. Also chose a slightly more colorful scheme. Like it better then the all grey it was before. Still isn't too bright.
6/15/2004
I got the screen caps for all the photon cels done.